Why Iran has 16 different translations of one Khaled Hosseini novel
2017/07/05
If JD Salinger could see what was on the shelves in Iranian bookshops, he would turn in his grave. The Inverted Forest, a 1947 novella that he refused to republish in the US for more than half a century, is widely available in Farsi in most Iranian bookshops, for just 90,000 rials, or £2.20. (English-reading Salinger diehards hunting on AbeBooks only have the option of a $500 secondhand copy of the Cosmopolitan issue where it originally appeared).
The Inverted Forest's publication in Farsi is just one example of Iran's messy, complicated, yet fascinating translation scene, which has long been undermined by the country's failure to join the Berne convention on copyright. Iranian authors who publish in their home country are offered some protection under national law, but the work of writers who publish outside Iran is completely unprotected. According to the Tehran Times, one Iranian translator has secured the copyright to produce a version in Farsi of Paula Hawkins's 2017 novel, Into the Water. But at least five others are already working on competing translations.
Thanks to Iran's love for literature, Tehran bookshops boast a diverse range of foreign titles, spanning everything from Marcel Proust to Haruki Murakami. Even works rarely seen in UK bookshops, such as Gustave Flaubert's Sentimental Education, are abundant in Iran – and widely read. That said, censorship is rife: the Ministry of Culture and Islamic Guidance vets all books before publication, and most are redacted – although under the current moderate administration, ......
The Guardian
http://theguardian.com/books/2017/jun/23/why-iran-has-16-different-translations-of-one-khaled-hosseini-novel
---

INTERNATIONAL BOOK AWARDS
2017/07/05
The Literary Classics' Mission - INTERNATIONAL BOOK AWARDS
INTERNATIONAL BOOK AWARDS
---
Shared Earth, A Collaborative Illustration-project
2017/06/10
This theme refers to an ecological/sustainability/green theme, with some hint as well, of the fact that different people and different nations and cultures share this earth (which adds the theme of multi-culturalism). This project was a collaborative between Iran and United Kingdom, done by the Iranian free-lance illustrators and the students of the Tehran Art Universities (Iran) and students of the Worcester University (UK).
Each participant was allocated (by the two lecturers Piet Grobler and Ali Boozari) a partner from the other country. Each participant, in collaboration with his/her partner, created 2 images on A3 each, as part of a six-week project. Both participants started simultaneously and had one week to complete the first 'layer'. Both images then were emailed to the partner to work on the second layer/phase for another week. Each participant printed out the illustration, emailed to him/her partner and create the next 'layer'. After working on his/her layer, the participant scanned the illustration and emailed it back for the other to work on it again... and so forth. It means that each participant was working on each image 3 times and created two A3 illustrations over a period of six weeks. This on-line illustration exhibition launched on the occasion of the World Environment Day (5 June).
---

Exclusive interview with Sonja Matheson, Director of Baobab Books Publications in Switzerland
2017/05/13
A book tree for children is growing
Exclusive interview with Sonja Matheson, Director of Baobab Books Publications in Switzerland
Sonja Matheson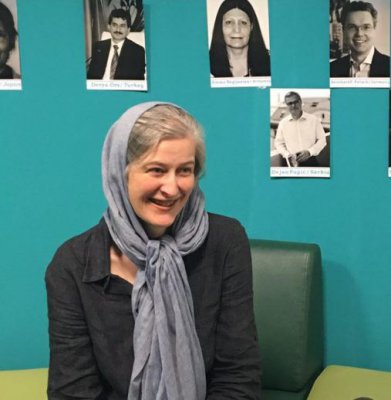 Sonja Matheson
By Ali Ameri
IBNA- Based in Basel, Switzerland, Baobab Books is a nonprofit publishing association aimed to develop cultural diversity in literary works targeted at children and young adults. They publish picture books and novels for children and young adults from all around the world. The books are translated into German and sometimes are published in bilingual editions. The association is led by a Swiss lady Sonja Matheson who described her views of the 30th Tehran International Book Fair (TIBF) and publishing books for children in this interview.
As you pointed out, it is your first visit to TIBF, however I would like to know about your general impression of this event.
It's rather difficult to say, because unfortunately I don't read Farsi and many things around are difficult for me to understand, so I don't want to compare TIBF with the other international book events.
But what I can clearly see is that people come because they love books, they want to know about the books and I think that's a good sign. It's not just busy-busy; although making business is obviously important for the publishers.
Some of the Iranian publishers are so active in terms of producing books for children and young adults. Do you know them or are in contact with them?
Yes, of course I don't know all of them, but know some like Chehel Tooti Publications, Kanoon (Iran's Center for the Intellectual Development of Children and Young Adults) and Hoopa Publications.
Regarding your own experience, do you think that the approach adopted by TIBF for interaction with international publishers is successful enough?
Based on my own experience, I can say yes, because I see many publishers from different countries are here; various publishers associations are represented; and I myself found the opportunity to visit here by invitation, otherwise I wouldn't be here, and it was a wonderful experience for me: meeting so many people, authors, illustrators and working with them, being in contact with them or later meet them in Frankfurt and Bologna book fairs. I think it's thanks to the initiative of TIBF.
When did you begin to know the Iranian books and writers for children and young adults?
My first experience of these works was 'The Little Black Fish' by Samad Behrangi which was translated in German and published in the late 1960s or early 1970s and I had it when I grew up.
Have you ever found a particular characteristics or features in the Iranian stories written for children?
I wouldn't say that there is something absolutely specific to the Iranian stories. But what I have observed, perhaps due to the political situation of the country, is that the writers have to find different forms of expressing themselves, for instance turn to allegories or symbols. It shows that the writers take the task of working for children seriously, but anyway their use of allegories and symbols should be understood by the readers.
Already in the meeting, you referred to the values which determine the selection, translation and publication of the books in your association. Would you explain a little bit more about these values?
Well, we have some basic values. One of them is the "diversity" that we want to show the world that societies are diverse. The other is "parity" meaning that we are different but equal, and it is something between genders, cultures and religions; we allow differences and believe that 'we can meet each other with respect" which is our third value. And the fourth is "dialogue", we believe that books should always promote dialogues between different people, and must not be fundamentalist or biased.
As a nonprofit publisher, how can you finance your projects? Is it possible just by selling books?
It wouldn't be enough. We have donors, private donors. One can also become a member of our association by paying a small amount of money as the membership fee. We have a foundation which supports the projects as well, and we receive some governmental support.
So, just a little portion of your expenses are covered by the government.
Yes, and we try to make a balance between our revenues and our future projects.
In your speech, you said as well as printing books, you are also active in other media, what are those media?
We are online, teaching some materials, giving services to internet users and the materials can be downloaded, but I would say we are not so much into new media. We don't have a Facebook page or Instagram account. Because we're really want to promote the books as cultural achievements. Our energy is limited and we are not big, so we prefer to focus on publishing books which I think are the most beautiful things in the world!
Isn't it a kind of nostalgia which makes you stress on the printed versions of the books?
I don't think so, because we have reprints after reprints after reprints! Because the books are selling so well; because the book is still a perfect form not comparable with any type of electronic media.
No argument! I myself can delve into the books simply when I read their printed versions.
That's true, because there would be no distraction, no cable, no password, no scroll down and up, or for example checking your e-mail messages, which may break your concentration!
The latest Iranian books released by Baobab Books are:
'The Big Snowman' (Der große Schneemann)
Shodjaie, Seyyed Ali (Author) / Taherian, Elahe (Illustration)
A picture book from Iran released as bilingual German–Farsi. Translated from Farsi by Nazli Hodaie; Baobab Books, 2013; 2nd edition 2016
Synopsis: A curious story takes place in a village. The village children are very happy to create the biggest snowman they can imagine from the first snow to fall in the winter. They clothe him with a hat and scarf. But the snowman has hardly been completed when he changes his face. He isn't grateful to the villagers for creating him, but rather demands guards and ice cubes, for he doesn't want to melt. Is one allowed to say no to such a request?
'A Big Friend' (Ein großer Freund)
Babak Saberi (Author)/Mehrdad Zaeri (Illustration)
Translated from Farsi by Nazli Hodaie; Baobab Books, 2015; 2nd edition 2016
Synopsis: One day the young crow flies back to her nest: "I've finally found a friend!" she tells her mother excitedly, "Look, he is just standing outside."
But what does her mother see? She looks right into … the trunk of an elephant! "Didn't I tell you to look for a friend of the same size so that you can play together?"
---

Merry Christmas and happy new year!
2016/12/25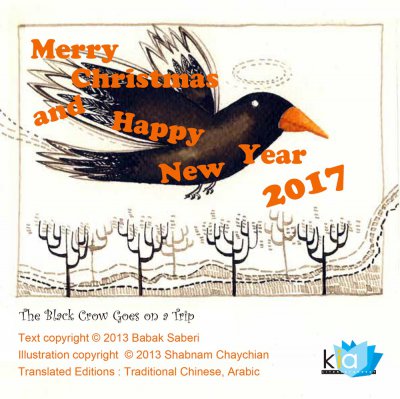 May the new sun of the New Year bring lots of Happiness and Joy to you and your family!
---

BIRDS of a FEATHER
2016/11/12
BIRDS OF A FEATHER
ILLUSTRATORS OF IRAN
OPENING 6PM FRI NOV 11 2016
Show Runs to December 3
Good Eddy, Ludlow Creative Space, Dirt Lane Press and Kia Literary Agency are pleased to announce Australia's first showcase of narrative artworks by leading contemporary Iranian illustrators.
With a focus on birds—from the humble sparrow to the flamboyant mythological simorgh—this vibrant selection of images demonstrates both the richness of contemporary narrative illustration and the depth of Persian culture.
The artists are:
AFRA NOBAHAR
ALI BOOZARI
ALI NAMVAR
ALIREZA GOLDOOZIAN
AMIR SHABANIPOUR
ATIEH MARKAZI
FATEMEH KHOSRAVIAN
FERESHTEH NAJAFI
HAMIDEH KHOSRAVIAN
HODA HADADI
KAMAL TABATABAEI
MAHKAMEH SHABANI
MANELI MANOUCHEHRI
MANSOUREH HOSSEINI
MARJAN VAFAEIAN
NAHID KAZEMI
NARGES MOHAMMADI
RASHIN KHEIRIEH
RONAK TAHER
ZAHRA KHATIBI
http://www.ludlowgallery.com.au/birds

---

Ghaeni elected for Executive Committee of IBBY
2016/08/31
---

Picture Book Illustration Concours
2016/06/07
3rd Nami Island
Picture Book Illustration Concours
Nami Concours aims to encourage artists' creativity and contribute to the advancement of the quality of picture book illustrations. It is organized every 2 years by Nami Island, the official sponsor of IBBY Hans Christian Andersen Awards.
Nami Concours 2017 accepts either original illustrations or digital prints of original illustrations as entries. No entries will be returned.
Nami Concours 2017 selects the winners from among shortlisted candidates selected during the preliminary round of judging.
Nami Concours 2017 holds the award ceremony and special exhibition during the 2017 Nami Island International Children's Book Festival.
.
Nami Concours 2017 invites the Grand Prix winner, Golden Island winners, and Green Island winners to the opening ceremony of Nami Island International Children's Book Festival in 2017 with travel expenses provided.
Nami Concours 2017 publishes a catalogue featuring the shortlisted candidates for international promotional purposes.
1. Eligibility Open to all picture book illustrators in the world
2. Theme No restriction
3. Application Period 1 July 2016 ~ 30 September 2016 (Local time)
4. Conditions
a. A set of illustrations should comprise one story
b. Number of illustrations per entry: 5 ~ 10
c. Every applicant should complete the online application form first
d. Data size: No bigger than 20MB in total (RGB format/jpg, jpeg file)
e. Entry fee: Free of charge
5. Entry method
a. Upload digital images to Nami Concours official website after the completion of online application form
b. Official website: www.namiconcours.com
6. Judging
Preliminary judging: International jury composed of renowned professionals will shortlist successful candidates up to 10x more than the actual number of winners
Final judging: International jury will gather to decide final winners
7. Submission for the Final Round of Judging
a. Eligibility: Shortlisted candidates who are selected in the preliminary judging
b. Deadline: 31 December 2016 (Local time)
c. Contents of entry: Either originals or quality prints of the illustrations submitted for the preliminary judging
8. Awards
Grand Prix 1 (Plaque and USD 10,000)
Golden Island 2 (Plaque and USD 5,000)
Green Island 5 (Plaque and USD 2,000)
Purple Island 10 (Certificate and plaque)
※Illustrations of the shortlisted candidates will be exhibited during the 2017 Nami Island International Children's Book Festival and included in the catalogue.
9. Results
The winners will be announced on the Nami Concours official website on 1 February 2017.
10. Notes
a. Shortlisted illustrations may be used and reproduced to promote Nami Concours without prior permission. No payment for such use will be made.
b. Shortlisted illustrations may be featured at an exhibition organized by NAMBOOK International Committee for promotional purposes.
c. All shortlisted candidates will be provided with one catalogue after the event
※ More details can be found on the Nami Concours official website
11. Contact
Nami Concours International Secretariat
Website: www.namiconcours.com
Address: 3F, 17 Insadong-gil, Jongno-gu, 03162 Seoul, Republic of Korea
Email: info@namiconcours.com
Phone: +82 2 753 1245~6
Fax: +82 773 1481
---
Selina Chonz & Alois Carigiet Swiss Author/ Illustrator at Afshar Foundation
2016/05/27
Selina Chonz & Alois Carigiet Swiss Author/ Illustrator at Afshar Foundation, and of course the launching of the Farsi edition of their three titles published by Children Publishing House, Yazd
- A Bell For Ursli
-Flurina & The Wild Bird
-The Snowstorm
Followed by showing a film on their most famous Children book Scellen-Ursli (A Bell For Ursli) by Xavier Koller ; the famous Swiss Director
_______________________
On this special event first the Swiss Ambassador gave a short speech followed a speech by Christina Fischer ; Second Secretary at the FEDERAL DEPARTMENT OF FOREIGN AFFAIRS giving a short introduction to this famous Swiss Author and also a film which is based on his life recently made by the Swiss Director Xavier Koller.
Then Babak Saberi the manager of Children Publishing House and the publisher of these three books talked about his trip to Davos back in 2007 where he first saw the beautiful illustrations by Alois Carigiet and how he found out that his books are the most popular children books in the region and finally how he got the translation right of the three titles through Kia Literary Agency .
The showing of the film on this famous Children book Scellen-Ursli (A Bell For Ursli) by Xavier Koller was very interesting for the audience specially for some Swiss families with their kids whom were among the participants .
Here we have to thank Christina Fischer for bringing this movie (which was with English subtitle) to Iran .
---

Bukhara Night
2016/05/24
---
Picture Books from Switzerland
2016/05/03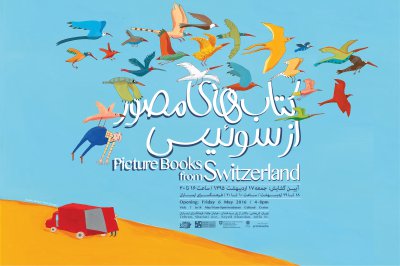 ---

Albertine & Germano Zullo Workshop
2016/04/06
---

Persian Picture l The Never Ending Experience
2016/04/02
Persian Picture
The Never Ending Experience
Dr. Christiane Raabe, director of The International Youth Library of Munich,
Ms. Lis Andersen, vice president of IBBY Denmark;
Ms. Lili HayeriYazdi, director of Kia Literary Agency;
Dr. Ali Boozari, director of the Iranian Illustrators Society(IIS).
Bologna Children's Book Fair l Authors' cafe l H29/30 l April 5th 2016 l 17:00
---

One THousand and One Night
2016/03/07
به گزارش روابط عمومی انجمن تصویرگران، علی اکبر صادقی، الریش مارزلف، مانلی منوچهری، مهران زمانی و هدا حدادی به عنوان اعضای هیئت داوران، پس از بررسی آثار راه یافته به نمایشگاه در روز یکشنبه 16 اسفند 94، نفرات برتر را انتخاب کردند. قرار است نفرات برگزیده در روز دوشنبه 17 اسفند در مراسم گشایش نمایشگاه که از ساعت 16 در فرهنگسرای نیاوران برگزار می شود، معرفی و تقدیر شوند. در این مراسم همچنین کاتالوگ نمایشگاه رونمایی و با 25 درصد تخفیف عرضه می شود. نمایشگاه هزار و یک شب علاوه بر نمایش نزدیک به 300 اثر از 100 تصویرگر، آثاری را به شیوۀ چیدمان به نمایش خواهدگذاشت.
---

کتاب هايي از نشر مبتکران، برنده بخش هايي از جشنواره لاک پشت پرنده طي سال هاي 92و93
2016/03/01
جشن لاک پشت پرنده چندين دوره با حضور نويسندگاه، مترجمان و تصويرگران کتاب کودک و نوجوان و همينطور کودکان و خانواده هايشان برگزار شده است .
هر سال، داوران و سیاستگذاران فهرست، بر اساس مقتضیات روز و همچنین با توجه دیدگاه‌ها و نقد و بررسی صاحب‌نظران،‌ معیارها و ملاک‌ها را بازبینی می‌کنند و آنها را در متنی با عنوان اصول، شیوه اجرایی و معیارهای فهرست و نشان‌های لاک‌پشت پرنده اعلام می‌کنند.
به عنوان مثال کتاب‌هایی با ارزش شش لاک‌پشت انتخاب می‌شوند که بیشترین هماهنگی را با معیارهای اعلام شده داشته باشند و افزون بر آن، نکته‌ای ویژه در محتوا یا فرم آنها به چشم بخورد. همچنین کتاب‌های با ارزش پنج لاک‌پشت معرفی می‌شوند که بیشترین هماهنگی را با معیارهای اعلام‌شده داشته باشند وکتاب‌هایی با ارزش چهار لاک‌پشت برگزیده می‌شوند که هماهنگی نسبی با معیارهای اعلام‌شده داشته باشند و کتاب‌هایی با ارزش سه لاک‌پشت برگزیده می‌شوند که ضمن برخورداری از ارزش‌های ادبی ذکر شده در این متن، تضادی با معیارهای فرهنگی ذکرشده نداشته باشند.
به نظر می‌رسد طي سال‌هايی که از برگزاری جشن لاک‌پشت پرنده می‌گذرد، به خوبی توانسته است جای خود را در بین خانواده‌ها باز کند. بسیاری از مخاطبان مدت‌ها منتظرند که فهرست کتاب‌های برگزیده لاک‌پشت پرنده منتشر شود و آنها بتوانند بهترین آثار از نظر داوران این جشن را بشناسند.
ليست کتاب هايي از انتشارات مبتکران که جايزه لاک پشت پرنده دريافت کرده اند :
فهرست کتاب‌های لاک پشت پرنده در بهار ۱۳۹۳
یولانته در جست و جوی کریسولا / نویسنده و تصویرگر: سباستین لُس- مترجم: حسام سبحانی طهرانی و ماندانا نارنجیها/ ناشر: مبتکران- دريافت چهار لاک‌پشت
شلی، گوسفند پشمالو/ نویسنده: کنیتر- تصویرگر: ایوتارلت – مترجمان: ماندانا نارنجیها، حسام سبحانی تهرانی/ ناشر: انتشارات مبتکران- دريافت چهار لاک‌پشت + منتخب کتابنامه رشد
من هم بغل می خواهم/ نویسنده و تصویرگر: جان آ.رووه- مترجم: ماندانا نارنجیها، حسام سبحانی تهرانی/ انشارات مبتکران- دريافت چهار لاک‌پشت + منتخب کتابنامه رشد
بازی های روز چهارشنبه/ نویسنده و تصویرگر: آن برتیه – مترجم: رکسانا سپهر/ ناشر: مبتکران- دريافت سه لاک‌پشت + منتخب کتابنامه رشد
دانش‌نامه‌ی کودک و نوجوان/ نویسنده: گروه مؤلفان - مترجم: گروه مترجمان/ ناشر: مبتکران- دريافت سه لاک‌پشت
سفر به خیر قطره کوچولو/ نویسنده: آن کروزا- مترجم: رکسانا سپهر/ انتشارات مبتکران- دريافت سه لاک‌پشت+ منتخب کتابنامه رشد
فهرست کتاب هاي لاک پشت پرنده در زمستان ۹۲
روزی که همه چیز خوب می‌شود / نویسنده: کنیستر – تصویرگر: ایوتارلت- مترجم: ماندانا نارنجی‌ها، حسام سبحانی طهرانی/ نشر مبتکران-- دريافت چهار لاک‌پشت
یکی برای همه و همه برای یکی/ یک توپ برای همه/ نویسنده: بریژت ونینگر/ تصویرگر: ایو تارلت /مترجم: ماندانا نارنجیها، حسام سبحانی طهرانی/ ناشر: مبتکران- دريافت چهار لاک‌پشت + منتخب کتابنامه رشد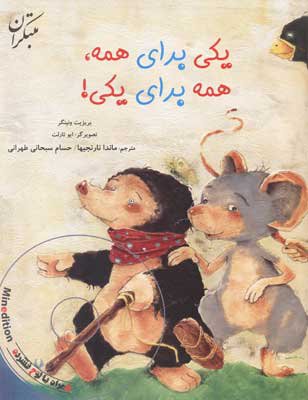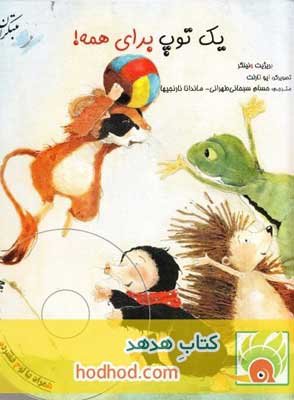 در ضمن از همين انتشارات کتاب 'برکه بچه قورباغه ها' ترجمه رکسانا سپهر منتخب کتابنامه رشد گرديده است .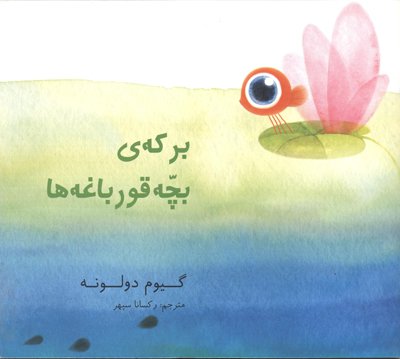 باید یادآور شد حق کپی رایت مجموعه کتاب های یاد شده توسط آژانس ادبی کیا اخذ گردیده است.
---

International Children's Book Day- April 2nd 2016
2016/03/01
Each year a different National Section of IBBY has the opportunity to be the international sponsor of ICBD. It decides upon a theme and invites a prominent author from the host country to write a message to the children of the world and a well-known illustrator to design a poster. These materials are used in different ways to promote books and reading. Many IBBY Sections promote ICBD through the media and organize activities in schools and public libraries. Often ICBD is linked to celebrations around children's books and other special events that may include encounters with authors and illustrators, writing competitions or announcements of book awards.
The sponsor for International Children's Book Day for 2016 is Brazil.
Current and past posters are available from the IBBY Secretariat. A catalogue of posters and messages that have appeared between 1967 and 2002, created on the occasion of the 50th anniversary of IBBY is also available.
---

MON TOUT PETIT is the winner of the FICTION category 2016
2016/02/28
---

'A Big Friend' Awarded with the Huckepack Prize 2016
2016/02/20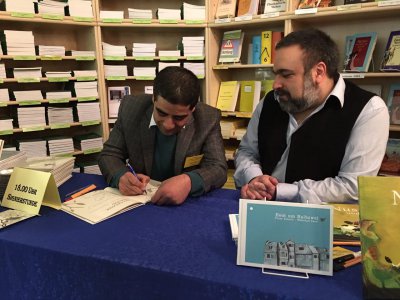 ---

IBBY Announces the Shortlist for the 2016 Hans Christian Andersen Awards
2016/01/20
IBBY, the International Board on Books for Young People is proud to announce the shortlist for the 2016 Hans Christian Andersen Award – the world's most prestigious children's book award:
Illustrators: Rotraut Susanne Berner from Germany, Pejman Rahimizadeh from Iran, Alessandro Sanna from Italy, Suzy Lee from the Republic of Korea and Marit Törnqvist from the Netherlands.
Authors: Cao Wenxuan from China, Louis Jensen from Denmark, Mirjam Pressler from Germany, Ted van Lieshout from the Netherlands and Lois Lowry from the USA.
The jury for this award is comprised of ten members from around the world:

Patricia Aldana from Canada/Guatemala is the 2016 jury president. She led the jury comprising the following Lola Rubio (Argentina), Dolores Prades (Brazil), Wu Qing (China), Kirsten Bystrup (Denmark), Yasmine Motawy (Egypt), Shohreh Yousefi (Iran), Andrej Ilc (Slovenia), Reina Duarte (Spain), Susan Stan (USA) and María Beatriz Medina (Venezuela). Elda Nogueira (Brazil) represented the IBBY President and Liz Page acted as Jury Secretary.
---

"A Big Friend" was awarded with "Huckepack" Prize, Germany
2016/01/09
The picture book Ein großer Freund / A Big Friend by the Iranian writer Babak Saberi and the Iranian born illustrator Mehrdad Zaeri, has been awarded by the Phantastische Bibliothek Wetzlar and the University of Bremen (Germany) with the Huckepack prize 2016.

In February 2016 HUCKEPACK Prize will be awarded for the first time. The AG books for Reader, which is composed of a Germany-wide panel of experts from reading and literature teachers, social workers, literary scholars and journalists, will be recognizing a picture book that convinces not only by a harmonious interplay of text and image, but also in special manner appropriate to strengthen children in the context of reading aloud emotionally. This view of the lasting impact of a picture book is the special of the "Huckepack" Prize.
---
International Compostela Prize For Picture Books
2016/01/03


COMPOSTELA PRIZE



RULES OS THE IX INTERNATIONAL COMPOSTELA PRIZE FOR PICTURE BOOKS



The Department of Education and Citizenship of the City Council of Santiago de Compostela, in collaboration with Kalandraka publishers, and as part of the XVI Reading Promotion Campaign announces the call for entries to the IX International COMPOSTELA Prize for Picture Books subject to the following rules:

1. The IX International Compostela Prize for Picture Books is open to all publications included in the picture book category: a book in which the story is told through illustrations and images, with both complementing each other.

2. The books may be presented in any of the official languages in the Iberian peninsula, and must be original and unpublished. Adaptations of originals or books that have already been awarded prizes or mentions in other contests will not be accepted. Works with more than three illustrations uploaded in internet will be not accepted.

3. One or more persons, authors of the text and illustrations of any nationality may take part. Employees of Kalandraka are excluded from participating.

4. The projects may be presented in any size, technique and format, but may not contain any more than 40 inner pages (excluding covers and endpapers).

5. Authors competing for the prize must present:

• Five copies of the text.

• Three original illustrations and five colour photocopies of each. If digital techniques are used, the authors may send high-resolution prints of the work.

• A finished layout of the whole project.

6. The works must not feature the name of the author(s), but instead a pen name or pseudonym. The personal details of the participants will be delivered in a sealed envelope: on the outside, the title of the work and the pen name or pseudonym, and inside the full name or names, postal address, telephone number and e-mail, together with a complete photocopy of the author(s) ID card or passport and a brief biography.

7. The projects must be sent or delivered to the General Registry of the Town Council of Santiago de Compostela (c/ Presidente Salvador Allende nº. 4, 15705, Santiago de Compostela. A Coruña. Spain), indicating on the envelope «IX Premio Internacional COMPOSTELA de álbum ilustrado». The name(s) of the author(s) must not appear on parcels delivered by courier agencies.

8. The period for presenting the books begins with the publication of these rules, and ends on the 7th of March 2016. Envelopes may not be postmarked with any date later than the deadline. The jury's decision will be published on April 2016, during the 16th Reading Promotion Campaign, organised by the City Council of Santiago de Compostela.

9. The jury will be composed of members with recognised prestige in the field of children's literature and illustration. A person appointed by the organisers will act as the secretary. The prize may be declared void, and no appeal may be issued against the decision of the jury under any circumstances.

10. A single prize of 9000 E is established as an advance on author's rights. Approval of this expense is subject to the existence of suitable and sufficient credit in economic item 020.321600.48900 of the budget for 2016. The prize money will not be paid until the author or authors deliver the completed work ready for publication. The prize-winning work will be published in all of the official languages of the peninsula (Galician, Catalan, Basque, Castilian Spanish and Portuguese) by the publisher Kalandraka in October 2016, which will sign the necessary publishing contracts. The publisher will also give priority to publishing works which receive a special mention from the jury. This right shall be valid for a period of one year, after which the works shall be at the free disposal of the author(s).

11. The author(s) undertake(s) to deliver the completed book before September 2nd 2016. The illustrator undertakes to complete the remaining illustrations using the same technique and with the same quality as those presented to the contest.

12. The author(s) may request the return of any originals that are not selected. They shall have to request it writing an e-mail to premiocompostela@kalandraka.com within one month of the jury's decision, covering all postage costs, for which purpose a bank account number will be provided to make payment for the postage or delivery. At the end of this period, any books that have not been requested for return will be destroyed.

13. The organising committee will not enter into any type of communication by mail or phone regarding the books that are not selected, nor regarding the interpretation and application of these rules.



14. In the event of any matters arising from these rules that require further clarification, this will be done by the jury, or otherwise by the organisers of the event. Participation in this competition implies the knowledge and full acceptance of these rules.



Organisers: City Council of Santiago de Compostela - Department of Education and Citizenship and Kalandraka Editora.



Ayuntamiento de Santiago de Compostela

Departamento de Educación y Ciudadanía

Edificio CERSIA

Alcalde Raimundo López Pol, s/n - San Lázaro 15707 Santiago de Compostela - A Coruña - España

dptoeducacion@santiagodecompostela.org

www.santiagodecompostela.org

Tfno.: +34 981 554 400 - Fax: +34 981 571 511



Kalandraka Editora

Rúa de Pastor Díaz, nº1, 4ºA 36001 Pontevedra - España

premiocompostela@kalandraka.com

www.kalandraka.com

Tlfno.: +34 986 86 02 76 - Fax: +34 986 10 02 80


---
The 4th Gold Panda International Cartoon and Illustration Competition
2015/11/14
Dear Artist,

Greetings!

In order to strengthen the international communication of cartoons and illustrations, make the art of cartoons and illustrations more flourishing, creat a platform for high-end culture art, "HONGTU" Art institute will sponsor the contest as an entrepreneur while Red Man Art Center will be in charge of the details of the contest as a purveyor. We sincerely invite all the artists all over the world to attend the contest. Your supports will make the contest more perfect.

Best regards.





The 4th Gold Panda International Cartoon and Illustration Competition


1. Participation
The contest is open to all artists regardless of nationality, age, sex, etc.


2. Organizer
Host:"HONGTU" Art institute
Sponsor: Red Man Art Center.
Official website: www.redmancartoon.com


3. Theme
A) Monkey King (Sun Wukong)
B) Monkey
C) Panda / Free


4. Entries
1) The works whether they have been awarded in other contests previously will be accepted.
2) Participators should summit the original works. Any slide, photograph or xerox will not be accepted. CGDigital works be accepted,E-mail to: redmanart@126.com and mail to the organizing committee.
3) The maximum 10 entries should be submitted for each category.
4) The maximum size of the works should be 200 ×200cm respectively.
5) The works should be accompanied by the author's resume and photo (or caricature).
6) First name, Last name, Address, Email, Telephone number should be written on the reverse side of the works. Please specify in envelope: "2015 Gold Panda"
7) Technique and medium of works are unlimited. Any painting, Print making, Traditional Chinese Painting, Oil painting, Watercolor, Crafts art or sculpture will be accepted.


5. Entry Form
Please down load the entry form on our web site: www.redmancartoon.com
At the same time, the self made entry form is also accepted.


6. Deadline
The deadline for entry is the 31 of January, 2016.


7.Delivery
1) The entries must be flat protected with hard cardboard, or rolled in a hard case. The folded works will not be accepted.
2) Please send entries to the address as follow:

HU XIAO YU
ROOM 341 BUILDING #364, ZHAN QIAN BA LI XIAO QU
YUN JING DONG LI,TONG ZHOU QU,
BEIJING 101121,CHINA


8. Judgment
1) The jury committee is composed of artists, printmaking artists, cartoonist, illustrators and press editors.
2) The jury meeting will be held on April, 2016.
3) The committee will announce the result on June, 2016 on web site. At the same time organizer will contact the winning artists via postal mail or email.


9. Prizes
1) Gold Panda prize – Golden Panda Medal + 2000 USD – 1 place
2) Best work prize of Print making – Silver Panda Medals + 1000 USD – 1 place
3) Best work prize of Traditional Chinese Painting – Silver Panda Medals + 1000 USD – 1 place
4) Best work prize of Illustration – Silver Panda Medals + 1000 USD – 1 place
5) Best work prize of Cartoon – Silver Panda Medals + 1000 USD – 1 place
6) Best work prize of CG – Silver Panda Medals + 500 USD – 1 place
7) Best work prize of Caricature – Silver Panda Medals + 500 USD – 1 place
8) The special prize of jury meeting – Copper Panda Medals – 30 places
9) Selected – Catalog


10. Copyright
Explicitly participators have whole copyright for their entries. The committee has the right to use all the submitted works to spread competition on media, websites, posters, post cards, advertisements, etc.


11. Catalog
The authors whose works has been selected will receive one copy of the catalog made for the competition.


12. Provisions
1) The submitted works will not be returned. They will be exhibited and displayed in Redman International Cartoon House.
2) Participation in the contest means the complete acceptance of all the above conditions and agreements with jury's decision.

For Information

HU XIAO YU
ROOM 341 BUILDING #364, ZHAN QIAN BA LI XIAO QU
YUN JING DONG LI,TONG ZHOU QU,
BEIJING 101121,CHINA


Web
www.redmancartoon.com/en
Email:
hongtuart8@163.com
hongtucp@163.com
---
My Sweete, Sara chosen by Munich International Youth Library Catalogue 2015
2015/11/14
Munich International Youth Library has chosen five Iranian children books for the annual White Ravens Catalogue.
The books include My Sweetie, Sara by Anahita Teymourian first published in Chinese by Alvita Publishing Company, Taiwan , 2006 and just recently published in Farsi by KANOON, Canned Giant by Mehdi Rajabi as well as the illustrated books; Ahmad Agha by Atefe Maleki Joo, A Full Moon Light by Soror Kotobi and; The Sweet Yogurt by Afsaneh Shaban Nejhad .
The White Ravens catalogue is the most important annual publication of the International Youth Library . It aims to promote quality in children's book publishing and has become an increasingly useful tool for anyone interested in looking beyond national borders. This year, the White Ravens contain a selection of 200 notable children's and young adult books from 55 countries published in 36 languages.
Since 2014, the printed catalogue is published prior to the Frankfurt Book Fair.
---
BOLOGNA CHILDREN'S BOOK FAIR 2016
2015/11/14
The aims of the Illustrators Exhibition, staged as part of the Bologna Children's Book Fair, organised by BolognaFiere and held from 4 to 7 April 2016, are to bring illustrators and publishers together and to promote illustrators and their work among publishers.
---
Tehran Bratislava 2015
2015/11/13
Bratislava illustration exhibition 2015
visit: 24 to 25 November / 9 to 13-14 to 19 / Laleh Art Gallery
Opening : Friday 13 November 2015 . 17 to 20
Fatemi Ave, Next to the Laleh Hotel, Tehran, Iran
tel : +98-21-88960492
---
Holding an Exhibition under the title One Thousands & One Night Stories
2015/11/07
Anjoman Tasvirgaran ( Cultural & Artistic Society of Iranian Illustrators) in collaboration with BOOK HOUSE is holding an exhibition under the title One Thousands & One Night Stories.
Participants can send 3 of their artworks to the Anjoman's secretrait before 21st December.
---
Frankfurt Book Fair 2015, Baobab Books
2015/10/13
Come and visit Baobab Books at the Frankfurt Bookfair from 14. to 18. October. You will find them in Hall 3.0 at H66.
They will be happy to show you their latest books. If you want to meet them regarding foreign rights or a presentation of your own work, please get in touch with them for an appointment.
On Sunday you have the opportunity to meet the illustrator Mehrdad Zaeri. He will sign your personal copy of the picture book Ein grosser Freund.
→ Sun, 18th Oct 2015, 14:00, Book signing
---
A Prayer for World Peace
2015/09/20
A universal message of hope and serenity among all of Earth's inhabitants

Jane Goodall is a world-renowned naturalist who brings her passion and her quest for understanding between all the Earth's creatures to the fore in this beautiful and affecting prayer for world peace. She asks us all to rise above our dogmas, to bring a spirit of generosity to the living world around us, to pray for justice and for those who are suffering. Illustrated with rich and colorful artwork, by Feeroozeh Golmohammadi.
Feeroozeh Golmohammadi is an artist and the first woman from Iran to win international recognition in the field of arts. Her work is exhibited widely around the world, and she has won a number of prestigious international awards.
During her years of experience, she has developed her own unique style. Her goal is to explore universal ideals and to create symbolic art that conveys spiritual beauty. Feeroozeh Golmohammadi lives in Tehran and teaches art , she has illustrated more than 20 books for children and young adults
---
Oslo Internatioanl RUMI Festival
2013/09/26
7th Oslo International Illustration Festival
for more information you can visit Festival's web site
www.rumifestival.no
---
Iranian Illustration Exhibition in The International Youth Library of Munich
2013/09/20
Iranian Illustration exhibition, containing artworks of 16 Iranian illustrators, which will be held from September 26th 2013 to the end of January 2014 in The International Youth Library of Munich.
---
Seyed Ali Shojaei attends the 13th International Literature Festival Berlin (ILB)
2013/09/11
The ILB counts as one of the world's most renowned literature festivals. Each year it presents around 100 events tp more than 10.000 young visitors between 5-20 years of age.
Seyed Ali Shodjaie will introduce his books to a broad public at this festival .His focus will be on his latest children picture book; What if the Snowman Wouldn't Melt? which has been recently released as a bilingual Persian-German text published by Baobab Verlag 2013 in Switzerland and was selected as book of the month by the Academy of Children's and Youth Literature in Germany in 2013. This book also received the Children's Book Award (2011) in Iran.
This illustrated story tells the tale of a snowman built by the children in a village from the very first snow of the winter. It soon becomes apparent that the snowman is a dictator who orders the village inhabitants around and gets rid of the seasons. Quietly illustrated using matt tones, this story are an intelligent and critical examination of the relationship between power and powerlessness.
Almost 200 events of contemporary international literature will be presented in Berlin. A special feature of the ILB are the premiere readings by authors whose books will be presented in Germany for the first time.
Other authors, within the "International Children's and Young Adult Literature" programme series, are: Milena Baisch, Azouz Begag, John Boyne, Chen Jianghong, Inés Garland, Yves Grevet, Finn-Ole Heinrich, Joke van Leeuwen, Raquel J. Palacio, Andreas Schulze, Ruta Sepetys, Bhajju Shyam, Janne Teller, and Józef Wilkoń.
One focus within the festival is a debate on the subject of "age". 25 events as part of the "Welt- Weisheit" ("Wisdom of the World") project will look at society's understanding of growing-old, as well as at scientific research on the subject.
International Literature Festival Berlin
---
Illustration Workshop
2013/03/27
Illustration Workshop Call For Applicants
---
Tehran Puppet Making Workshop 2012's Report
2012/10/01
Tehran Puppet Making Workshop's Report
---
If Snowmen Don't Melt will be soon published in German language in Switzerland
2012/09/17
If Snowmen Don't Melt will be soon published in German language in Switzerland. This book which was first published by Neyestan Publishing House in 2011, has been written by Seyyed Ali Shojaei and llustrated by Elaheh Taherian.
Children are trying to build the biggest snowman that any one has ever seen in their town.
After they finally finish the job, they invite their families and friends to come and see the biggest snowman that they have built.
The next day when people wake up, they find out that they all should be at the service of this big creature and obey whatever he demands…
Then when it is Spring time and the Sun is about to shine, the snowman resists …
The author has written an introduction on the German edition of his book and has addressed the German speaking children;
"I'm happy and honored that the present book has become a window through which I can interact with my young friends in Switzerland and can greet every single one of them whose love and kindness is not encircled by boarders."
---
Tehran Puppet Making Workshop
2012/07/20
The workshop sessions are aimed at providing methodologies
for designing and creating a manipulable puppet suitable for
animation.
During the five days workshop, participants will be exposed to
different exercises based on a multidisciplinary approach in
order to redefine their style for puppet design.
Participants will be also invited to research and explore with
different material and techniques to strengthen their
knowledge in puppet making and be able to create their own
character.
By the end of the workshop, we will be bringing the puppets to life through a sneak peek into the stop motion world.
---
Tehran Puppet Making Workshop's Registration
2012/07/07
In this workshop, the participants will be exposed to different exercises based on a multi disciplinary approach in order to redefine their style for puppet design.
And by the end of the workshop, all these puppets will be bringing to life through a sneak peek into the stop motion world.
Registration fee: 300 $
For more information please contact;
Cell Phone: 0098 930 6004913
E-mail: info@kiapersia.com
---
Hans Christian Andersen's Selected Works 2012
2012/05/20
---
The Sharjah International Book Fair 2012
2012/05/16
Alireza Goldouzian winners of Third Prize in Sharjah International Book Fair 2012
---
Ghazaleh Akhavan's Painting Exhibition
2012/05/16
Haft Samar Gallery
Opening: Friday 18 May 2012 4-8 pm
Tel: 88731304
Exhibition's Poster
---
Online Interview with Alireza Goldouzian by DPI Magazine, Taiwan March 2012
2012/03/01
Online Interview with Alireza Goldouzian
---
Nimman Boogh is selected at the Bologna Illstration Exhibition 2012
2012/02/09
Nimman Boogh illustrated by Alireza Goldoozian, published by Neyestan publishing House is selected at the Bologna Illstration Exhibition 2012
---
KIA Literary Agency in Bologna Book Fair 2011 at OQO's Stand
2011/03/21
---
Behzad Gharibpour at the Professional Meeting & Firoozeh Golmohammadi at the Forum
2011/02/19
The Professional Meeting & The Forum in Abu Dabi Book Fair 17
---
Karl SchlammingKarer & Firoozeh Golmohammadi in Kia's booth Abu Dhabi Book Fair 2011
2011/02/18
Karl SchlammingKarer & Firoozeh Golmohammadi
---
Abu Dhabi Book Fair March 2011 Illustrators Corner
2011/02/17
David Habchy and other illustrators in Illustrator Corner
---
Animation's Workshop & Meetings at Illustrator's Corner 2011
2011/02/16
Animation's Workshop & Meetings
---
Poetry, Story Telling Corner & David Habchy's Presentation at the Abu Dhabi Book Fair 2011
2011/02/15
Poetry, Story Telling Corner & David Habchy's Presentation
---